FROM THE VAULT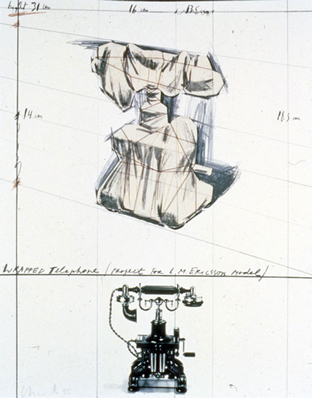 Wrapped Telephone,
Project for L.M. Ericsson Model
1985
lithograph, collage
28" x 22"
edition of 100
BOTTOM OF THE WORLD
It has been three years in the making. We are pleased to announce we are in the final stages of printing the newest publication by Terry Allen. "Bottom of the World" is a suite of 11 lithographs based on the sheet music format of the 1930's and 40's. Each print illustrates and corresponds with one of Terry's original songs. The suite will be sold as a boxed set and will be accompanied by a signed vinyl LP and a Compact Disc. Please contact Landfall Press for more information at 505.982.6625 or email us at info@landfallpress.com.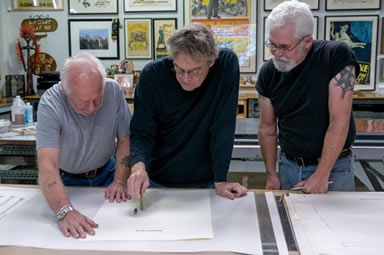 Photos Courtesy of Peter Ellzey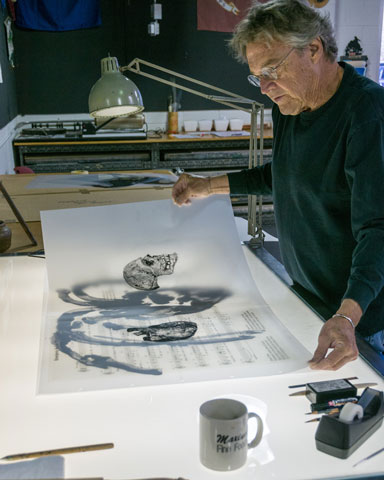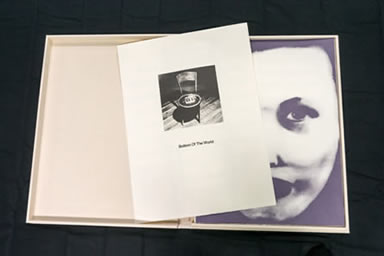 NEW EDITIONS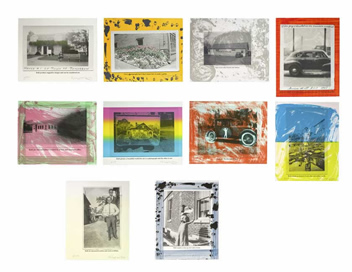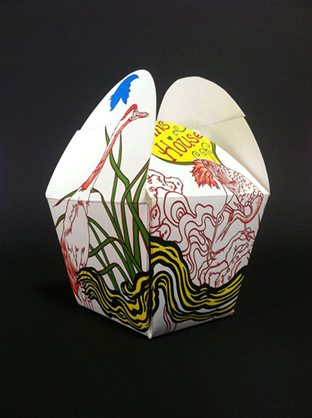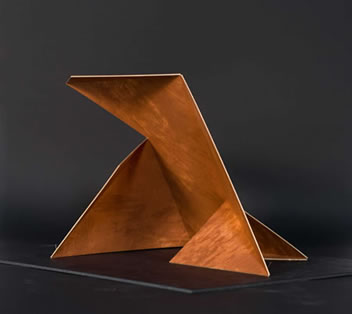 VOILA!
Peregrine Honig with Buttons, Buckles and Bows~Oh My!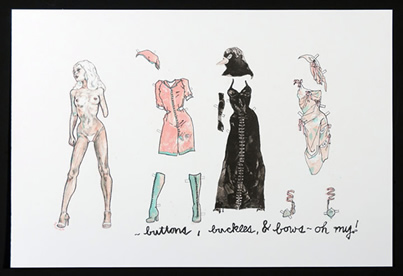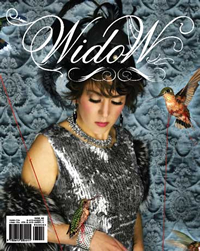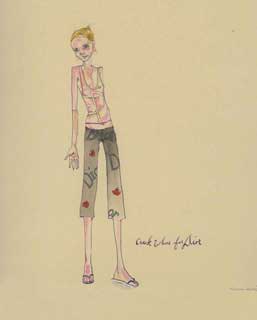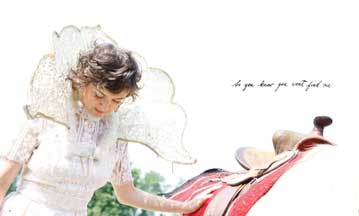 Peregrine Honig has been printing with Landfall Press, Inc. for over ten years. Her ideas and images challenge issues of beauty and social hierarchies. Honig's recent collaboration with Landfall, Widow, deals with the complex culture of the fashion industry.
Widow, is published in the format of a glossy one-volume fashion magazine and will include an audio component (the final studio recording of Jimmy Carl Black, the drummer from Captain Beefheart and Frank Zappa and the Mothers of Invention), 186 images of her work, essays, a poster, and photographed portraits. The first 500 (the Deluxe Edition) will include a reading glove by the designer Peggy Noland, Widow draws lines between the fashion industry and the fine art world and will be available as a limited edition of 1500. This unique venture has never been done before by any fine art publisher.
DELUXE EDITION: $700 plus shipping and handling
STANDARD EDITION: $600 plus shipping and handling
Check it out!
Please visit Widow Magazine for more images.
See Alice Thorsons's article in Kansas City Star
See Art Tattler's Widow Commentary
More prints available!
This Retrospective in a Box will include seven iconic images. Individually sold prints will be available at a price of $3,500.


Top

Charles M. Schulz met Christo and Jeanne-Claude in 1975. Two years later, Schulz memorialized Christo's work in a daily strip depicting a wrapped Snoopy house. With mutual admiration, Christo took the Schulz comic from a 1978 strip to reality in 2004 with his Wrapped Snoopy House Project at the Charles M. Schulz Museum and Research Center in Santa Rosa, California.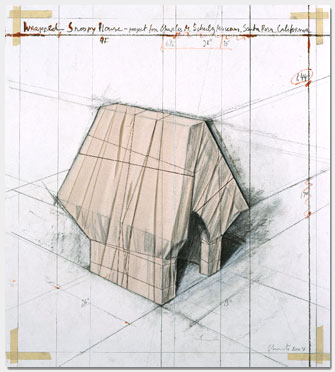 "Wrapped Snoopy House, Project for Charles M. Schulz Museum" will mark the 30th collaboration between Christo, Jeanne-Claude and Landfall Press. The lithograph /collage, inspired by the popular pooch, measures 24 1/8 inches by 21 5/8 inches with an edition size of 250. These will be offered at $5,500.00 each. The image debuted at the 2004 IFPDA Print Fair in NYC.


Top
We now list print prices on the web site. You will find them listed on the artist's pages and also in the Inventory section of the web site. As always, prices and print availability are subject to change without notice. Please call or email us for more information on purchasing prints.

© Landfall Press | Development: Christina Ziegler Campbell